Transcend StoreJet 25H3 3.0 (3.1 Gen-1) 1TB - (Two Year Warranty)
---
2-3 Days

Brand: Transcend

Product Code: PCS-0001
---
StoreJet® 25H3 - 1000GB

The StoreJet 25H3 USB 3.0 portable hard drive combines the superior performance of USB 3.0, vast storage space, eye-catching enclosure, and a three-stage shock protection system that meets U.S. military drop-test standards.
Features
Military-grade shock resistance*
Fully Compliant with the Hi-Speed USB 2.0 specification
Advanced 3-stage shock protection system
Durable anti-shock rubber outer case
Advanced internal hard drive suspension system
Quick Reconnect Button – after safely removing the hard drive from the system, press to reconnect the drive without having to unplug and replug the USB connector again
One Touch Auto-Backup button**
256-bit AES file & folder encryption**
Exclusive Transcend Elite data management software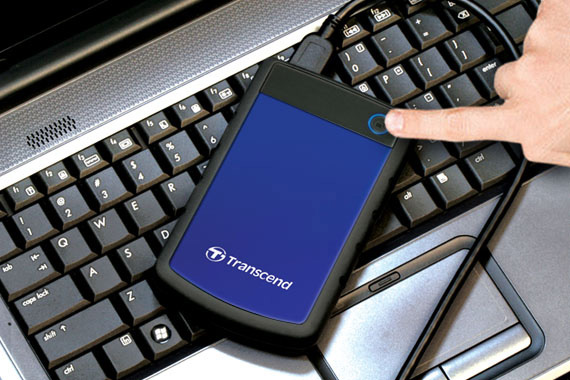 ---
Specifications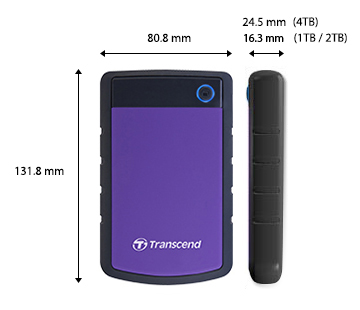 Size
500GB/1TB: 131.8mm×80.8mm×19.0mm (5.27" x 3.23" x 0.76")
2TB/3TB/4TB: 131.8mm×80.8mm×24.5mm (5.27" x 3.23" x 0.98")
Weight
500GB/1TB: 216g (7.61 oz)
2TB/3TB: 284g (10.01 oz)
4TB: 308g (10.86 oz)
Operating Voltage
USB DC 5V
Operating Temperature
5°C (41°F) ~ 55°C (131°F)
Storage Media
2.5" SATA HDD
Certificates
CE, FCC, BSMI
Connection Interface
USB 2.0/3.0
Power Saving Mode
10 mins
One-Touch Backup
Yes
Note
*Based on U.S. military drop-test standards MIL-STD-810G 516.6. The drop test performed in non-operating state does not guarantee the invulnerability of this product under any circumstances. More information about Transcend's MIL-STD test can be found here.

**Transcend Elite software is required for this function.
Warranty
Three-year Warranty

Please access here for more information about Transcend Warranty Policy.
System Requirements
Desktop or notebook computer with a USB port and one of the following operating systems:

Microsoft Windows 7
Microsoft Windows 8
Microsoft Windows 8.1
Microsoft Windows 10
Mac OS X 10.7 or later
Linux Kernel 2.6.31 or later
ABOUT US


CHOICE.LK IS AN ONLINE & OFFLINE SHOPPING SERVICES, 2014 PRESENTS.
WHEN SHOPPING AT CHOICE.LK YOU WILL SAVE YOUR HARD EARNED MONEY ON QUALITY BRAND PRODUCTS IN MANY CATEGORIES.
OUR MISSION IS:
TO PROVIDE "HIGH QUALITY" PRODUCTS WITH "COST EFFECTIVE" PRICE.
VISION IS:
~TO BE A LEADING ONLINE STORE IN THE FASHION INDUSTRY~
OUR RESPONSIBILITY:
WHEN A CUSTOMER IS TREATED AS A PARTNER IN OUR BUSINESS, HIS/HER TRANSACTION WILL BE MANAGED BY OUR HEAD OF OPERATION WHO IS RESPONSIBLE TO MANAGE AND DEVELOP THE ACCOUNT UP TO ENTIRE CUSTOMER SATISFACTION. THE SERVICE STANDARDS MAINTAINED BY CHOICE.LK HAVE CREATED THE ENVIRONMENT TO KEEP SATISFIED CUSTOMERS FROM THE INCEPTION.
THANK YOU
~Admin~
Showroom: CHOICE.LK 750C Kotte Rd, Rajagiriya (Opposite ODEL Warehouse)
Monday - Saturday: 9.30 AM - 6.30 PM
We Accept Credit Cards, Visa Cards, Master Cards
Hotline +94 777 554 574 | www.info@choice.lk
Related Products
StoreJet® 25H3 - 2000GBThe StoreJet 25H3 USB 3.0 portable hard drive combines the superior performan.....
StoreJet® 25H3 - 4000GBThe StoreJet 25H3 USB 3.0 portable hard drive combines the superior performan.....
Car Back Seat Organizer Cooler Bag Black is a multi-purpose car organizer comes with enough pockets .....